Let Us Give You Some Inspiration For Your Stay!
Discover our short breaks guide below to plan your future stay.
Walking & Hiking Holidays
Sligo is known for it's surf coast but also it's looming cliffs, crashing waves, historical ruins and of course Benbulbin, a unique table mountain. Sligo has it all, with magnificent wild landscapes and safe walking amenities to match. Enjoy one of the stunning looped walks and take your pick from landscapes; upland, woodland, coastal, rivers & lakes, urban or rural. Sligo has it in abundance. You will be spoiled for choice. Make Sligo your destination of choice for your walking holiday or simply take in an afternoon hike with the family as part of your summer staycation, enjoy one of the less well know trails and soak up the peace and tranquillity.
Here are sligowalks.ie top picks
Sligo - A Golfers Paradise
It's long since known far and wide that the stunning links course of County Sligo in particular are a golfers dream. Set amidst the stunning backdrop of mountains and the Atlantic Ocean.
The Yeats Country Hotel, overlooks the putting green of County Sligo's Championship Course. If you fancy taking in a second or third course, your spoilt for choice. Strandhill Golf Course, across the bay, is a short 20 minute drive. Enniscrone Golf Course is 40 minutes drive and Bundoran Golf Course is also 20 minutes away. All courses are offering attractive rates and are looking forward to welcoming new and not to new golfers back to their greens.
Island View Riding Stables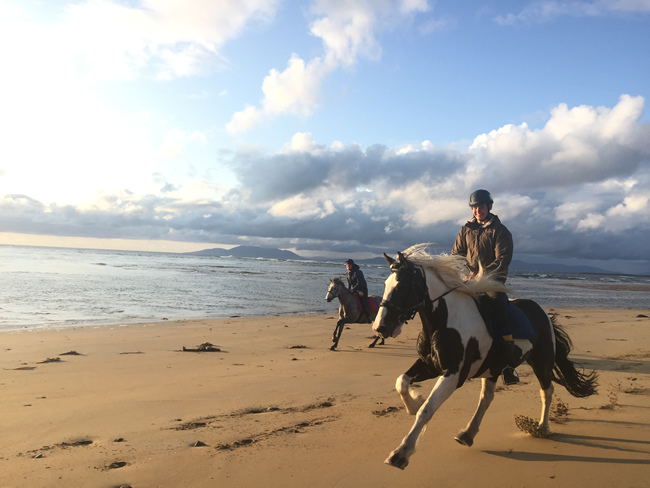 Their family run business offers horse riding along the beautiful streedagh beach in Grange, about 40 minutes away from our hotel. This would bea great experince for a family and a couple. It offers specatcular views of Sligo and Donegal Bay. Check out the link below.
https://islandviewridingstables.com/
Scenic Sligo Driving
The mesmerising sights of County Sligo inspired WB Yeats. If you have been like the rest of us the last few months then the thought of taking off on the open road is just the treat for you, now add some stunning scerary. Ideally based in Rosses Point the Yeats Country Hotel has scenic drives in all directions, with so much stunning coastline and natural beauty.
Drive around Mullaghmore Head and take a walk around the headland. You have the best of both. Enjoy a wonderful drive regardless of the weather as it only enhances the drama of the crashing cliff waves and sun light on Inishmurry Island.
Other drives include Aughris Head with beach walk or visit the cliffs or pier and take a picnic on the nearby Dunmoran strand just a few minutes drive away. Highwood and Lough Arrow offer a stunning inland experience leading onto the Miners Way historical trail. Fishing enthusiasts can marvel at Lough Arrow, one of Europes finest wild trout fishing loughs. Lough Talt and Ladies Brea offer a stunning mountain drive through the Ox mountain or drive around Lough Gill and through Glencar Valley. Whichever route you take you wont be disappointed. Then return to Rosses Point and take in the stunning backdrop as your watch the sun set.
Stuck for other ideas?
Have a look at our blog piece from @travellingblog.com. Marion enjoys travelling around the world and giving people insight and tips for things to do in the most beautiful go-to places. Have a look below on what she recommneds for Sligo.
https://lovetravellingblog.com/2022/02/24/yeats-country-hotel-rosses-point-co-sligo/
https://lovetravellingblog.com/2021/12/07/day-7-oyster-experience-sligo/
Staycation Special Offers
Book Online www.yeatscountryhotel.com or Email info@yeatscountryhotel.com
Follow us on social media for more tips @yeatscountryhotelinsta & @yeatscountryhotelfacebook
Fill out the form below to contact us with your enquiry.